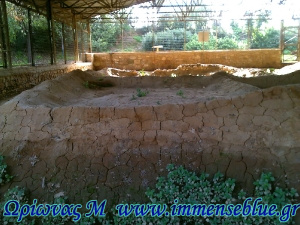 From the sign
: In the Geometric period (ca. 1.000 - 700 B.C.), there was a cemetery here that continued down to Classical times (5th century B.C.). Most of the tombs were clay urns (amphorae) containing the ashes of deceased children.
A house (15.30 X 14.60 m.) was also built. It has been called the "Sacred House" due to the presence of many animal sacrifices in and around it. It is constructed of unbaked clay bricks and consists of seven rooms on either side of a corridor.
It has been assumed that here the Athenians honoured the hero Hekademos, as attested by Plutarch in his Life of Theseus.
Location
: Archaeological area of Plato's Academy, Athens / HELLAS - Greece.
Keywords
: House of Academos, Wall of Hipparchus, Kifissos River, Plato's Academy, Keramikos.
Additional Information
:
From

here

you can see

the

House of

Academos,

the first

settler

of

the area and

the wall

surrounding

Plato's Academy

and

is

known

as

"

Wall of Hipparchus".

Although the

Sacred House

and

the

House of the

Academus were situated

inside

fence

in

a

place that

access is denied

, is

possible to observe

the two

monuments

from

the outside area 24 hours

a

day.